Rising from an earthquake to fight the pandemic in Nepal
Chime Asonye, Ramon Michael
Jan. 15, 2021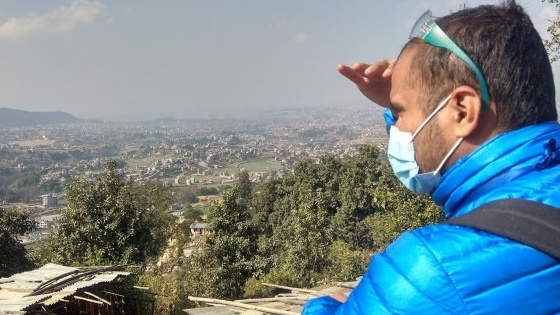 Ram Chandra looks over the city of Kathmandu in Nepal
2020 saw COVID-19 spread worldwide, but the roots of technology solutions that are helping medical workers and citizens of Nepal respond to the virus were planted in an earlier catastrophe, one that saw innovation and community rise from the ashes of one of the nation's greatest natural disasters.
In 2015, Nepal, a landlocked country in South Asia bordering China and India, was rocked by an earthquake that destroyed property, historical monuments, claimed thousands of lives, and left scores more injured. Landslides and avalanches ensued, causing severe damage to the capital and nearby towns. The emergency was also the trigger that shifted Zener Technologies' work, a domestic 3D design and additive manufacturing company co-founded by Ram Chandra Thapa, to solve citizens' essential needs with technology.
Ram Chandra Thapa was a fresh university graduate the year of this ecological disaster. Working as a design and production engineer for Field Ready, an organisation focused on the rapid manufacture of items for humanitarian purposes and remote areas. While at Field Ready, he began to formally establish his own company, Zener Technologies. The organisation soon began to support social impact, landing an opportunity to operate part of a global environmentally-focused fund and collaborate with the United Nations Development Programme (UNDP) on a cooking stoves project for rural communities. Only later in Zener Technologies' journey would they evolve into the 3D design, prototyping, and digital manufacturing experts — work that is creating a real impact in the response to COVID-19 in Nepal.
Ram Chandra Thapa, co-founder of Zener Technologies
Mobilising forces in Nepal to pivot
As the global pandemic took hold in Nepal from March last year, like many places, the nation saw supply chains restricted as flights and transport came to a standstill. Import-reliant businesses collapsed as trade and production linkages were impacted. The Nepalese economy was further damaged by the halt of other sectors like tourism and services. This lack of movement meant that the country faced a scarcity of personal protective equipment (PPE) among other vital products, essential for the safety of medical staff.
Supply shortages saw the price of PPE spike in local markets, making it less accessible to vulnerable individuals. At the same time, the World Health Organization (WHO) urged industries around the globe to increase PPE production, and government and business associations were following suit. Zener Technologies was also receiving requests from medical professionals and organizations, desperate to find a reliable source of face shields and goggles.
Thapa, already fascinated by and working with 3D printing technologies, spotted an opportunity for technicians and engineers to work together. "I posted on Facebook requesting 3D printer owners to provide details of their production resources and mapped about 20 makers in Nepal," he says. "We made and distributed over 500 3D printed face shields, working overnight amid nationwide lockdown and travel restrictions. The cases were rising at an alarming rate in Nepal, and most people were turning to us for PPE, the demand increased a lot, and I had to ramp up production."
Face shield and goggles made by Zener Technologies using a distributed manufacturing approach
Thapa's network proved to be valuable, "I quickly raised money for investment in industrial die/mould from friends and partner companies and outsourced design and production work to multiple small companies. With rigorous effort in design and prototyping, we were able to increase our production from 100 face shields a day using 3D printing to 1,000 using the injection moulding process in 10 days. Similarly, we began goggle production in another 15 days all using local resources."
Thapa's initiative mobilized at least ten small businesses to make PPE in a distributed fashion, a decentralized manufacturing practice using a network of geographically dispersed facilities coordinated with information technology to produce locally. For instance, to make a face shield, the production involved assembly across different neighbourhoods in Kathmandu, Nepal's capital and largest city. The frame was created in a factory in Baniyatar; the elastic came from two workshops in Thamel. The visor sheet was laser cut in two locations, then assembled and packaged at Balaju. "The product reaches the end-user through a channel of distributors and volunteers," he explains.
Women working on the assembly of safety goggles
A personal understanding of the pandemic
In January 2020, Thapa was about to head to Cox's Bazar, a city and fishing port in Bangladesh, with Field Ready to work with others around the Rohingya crisis. The conflict involved the discrimination and targeted killings of Rohingya communities, a Muslim minority in Myanmar, which led to hundreds of thousands fleeing to neighbouring Bangladesh — creating the largest single refugee settlement in the world. He spent a month in Bangladesh following the news, nervous about the growing spread of COVID-19 that was beginning to dominate headlines. "I felt that the virus was real and could get me any time," he says.
"I feel for families who have no choice but to live in a single room in cities."
Already, health supplies were in demand, "It was very hard for me to purchase any mask and sanitiser in Cox's Bazar due to businesses hoarding supplies. I borrowed a few N95 masks from my Field Ready colleague in Cox's and returned back to Nepal. I didn't even take any snacks on the flight that day, not trying to open my mask and I was sanitizing my hands a lot. I was very frightened in those days."
Coming home and facing lockdowns and other social restrictions, Thapa has witnessed the virus's consequences on the people around him. "I have seen severe infection in some of my friends and heard about their near one's loss of life, and this makes me worried about those who are at risk. I have been continuously distributing PPE to those at risk and suggesting everyone wear a mask and take necessary precautions more than ever before. But, I feel for families who have no choice but to live in a single room in cities and can't work from home. Social distancing and COVID-19 instructions are hard on them."
Challenges on the horizon
Shutdowns in Nepal go some way to stemming the spread of the virus. Still, the financial impact makes life very difficult for much of the population, "In a country where most people live on few dollars earning a day, closures of businesses makes life harder," Thapa says. A recent World Bank report echoes his assessment, noting that the pandemic plunged South Asia into its worst-ever recession in 2020, taking a disproportionate impact on informal workers and pushing millions of others in the region into extreme poverty. "Even though many things have eased after the lockdown ended, there are still problems getting raw materials and shipping goods on time. This has hiked the cost of COVID-19 products and other products."
Surviving the pandemic and opportunities afterwards are a big concern for businesses like Zener Technologies in Nepal. People live in high hope that vaccine distribution will gain momentum early this year, but it is uncertain when it might be available to lower or middle-class people in countries like Nepal.
Conflicting business practices are also causing challenges during the period. Thapa observes a clear division of business ethics between local producers and importers. The first being more inclusive than the latter. Most importers or traders still see this pandemic as an opportunity to make money by creating scarcity, whereas local producers are embracing diverse methods to address the pandemic by making PPE, running campaigns for their distribution, and supporting each other.
It is this local sense of community that gives Thapa hope, "I have witnessed this pandemic as an innovation and market opportunity for the small local enterprises breaking the mould of established supply chain systems. Companies have started making sanitiser dispensers, foot-powered hand wash stations, robots for delivering supplies in isolation wards, PPE, disinfectant robots, health care systems, thermal scanners, and much more. These are the collective efforts small local businesses are making as a response to the pandemic."
A bright future awaits
The collaboration between the public and private sectors in Nepal, during COVID-19, has shown that manufacturers can unite and collaborate for effective change. Thapa believes there is still hope for the distributed manufacturing of low volume and high-quality PPE. With some improvement in quality control, testing and quality assurance, and identifying and connecting these local producers, these steps might be the best way for the country to achieve mass production of PPE as a collective network.
"I can clearly see new companies formed and old ones transformed."
With COVIDaction project support under the Local Production Local Solutions fuding programme, Zener Technologies plans to set up quality control infrastructure for PPE production so that it can meet demand during this time of need. "There are huge possibilities brought by this crisis if we act wisely," Thapa says.
"Similarly, through a public-private partnership model, the National Innovation Center, a publicly crowd-funded institution, has made testing swabs, tubes, body bags, isolation booths, CPAP filters (which capture contaminated particles for machines that increase air pressure for breathing), isolation robots, PPE, ventilator repair, and research around oxygen concentrators and low-cost ventilators. I can clearly see new companies formed and old ones transformed to make N95 equivalent masks, sanitisers, PPEs, shield screens, sanitiser dispensers, and other digital platforms to track and monitor progress made with COVID in Nepal — most of these happened all due to COVID situation in a very short time period."
With the help of COVIDaction, Zener Technologies will continue to support the digital manufacturing sector in Nepal, as they bridge local supply chains and offer more robust technology products to market. Equipment like vacuum forming machines, laser cutters, CNC machines, and 3D printers and scanners will allow increased production of unavailable and critical goods. Additionally, the company will accelerate the development of its web of production platform for local makers in the country, which offers new producers greater visibility. The platform brings together idle machines, decentralized technology tools, global and remote expertise, diverse skill sets, and a growing supplier network, making the product development process more reliable for consumers. Employing the distributed manufacturing approach, which connects and digitizes different parts of the production process, also helps small businesses meet demand by making prototyping, iteration, and delivery more efficient.
Design and production work taking place at Zener Technologies
Zener Technologies also has aspirations across industries and is working to leverage its new resources to deepen efforts in the medical sector, beginning to define use cases for surgical guides, dental models, anatomical models, prosthetic and orthotic devices, over and above medical PPE.
However, it's not all high tech; domestic knowledge and craft are also focuses for the firm. It hopes to support local artisan industries to make quality master models using high-end 3D scanning and 3D printing processes soon.
Zener Technologies has been a driving force for local production and resilience throughout the pandemic and has overcome the odds to empower local communities. Thapa's passion for sustainability through technology is inspiring, and his focus on connections and community is helping push pandemic response further, "We have a long way to go," he says, "but we are determined to work together."
This blog post first appeared on https://medium.com/covidaction/local/home